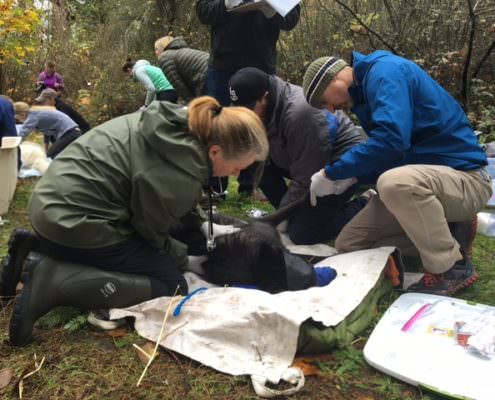 Are you a caretaker working with captive exotic or indigenous wildlife? Do you rescue and rehabilitate wildlife or work in a setting where veterinary care is performed? Are you interested in learning how to safely and humanely chemically immobilize the animals you care for? Do you want to provide wildlife care in a respectful and compassionate manner and learn best practices? If the answer to any of these questions is yes, then Chemical Immobilization and Humane Handling is for you.
In the first of a series of courses focusing on compassionate wildlife care, Mark R. Johnson, DVM of Global Wildlife Resources (GWR), Wolf Haven International, The Wildcat Sanctuary, and the Global Federation of Animal Sanctuaries (GFAS), are offering a unique 4-day course that will focus on compassionate chemical immobilization and humane handling of wildlife living in sanctuaries and other animal facilities. This course will focus on wild and exotic species from the canid and felid families; however, professionals working with all species are welcome and encouraged to register. You will gain practical skills and knowledge that you can immediately apply in your own facility.
This is one of the most extensive chemical immobilization courses in North America and includes a course notebook and daily labs, culminating in a hands-on lab with captive wolves. Participants will also receive a Certificate of Chemical Immobilization Training upon course completion.
Register / More Information:
FEES: $650 ($675 after October 1, 2017)
CONTACT:  Wendy Spencer, Sanctuary Director, 360.264.4695 x218.
READ MORE about GWR, The Wildcat Sanctuary, GFAS  and the Chemical Immobilization and Humane Handling course here.