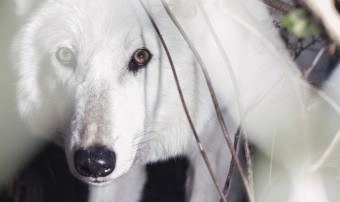 Schedule your visit
Wolf Haven is closed & doesn't offer sanctuary visits from Feb 15 – Mar 17 due to breeding season. Scheduled visits resume on Saturday, Mar 18.
Enjoy a 50-minute guided visit through the public portion of the wolf sanctuary and learn more about wolves. Potentially see up to 10 sanctuary residents in a beautiful, natural and serene atmosphere. A self-guided prairie walk is optional.  Questions about your reservation? Call 360.264.4695 x220 (email and social media sites not monitored 24/7). This visit may not be suitable for children ages six and under due to its length and informative nature.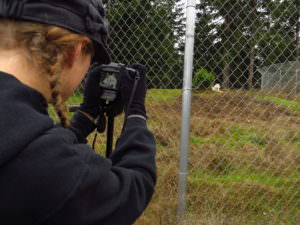 Wolf Photo Visit
Be one of a small group of people at a special Wolf Photography Visit. These ½ day events are held four times a year during colder months, when the wolves are wearing their winter coats. The sanctuary is closed to the public, allowing a more intimate experience for participants. Program begins with continental breakfast and a brief presentation.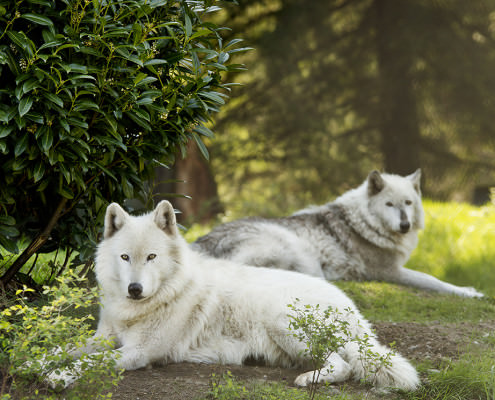 Gift Certificates
Purchase a Wolf Haven gift certificate and give that special someone a howling good time!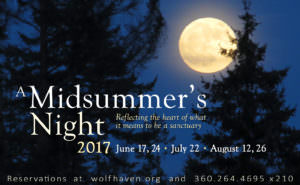 A Midsummer's Night 2017
Our premier summer event, A Midsummer's Night, offers guests the opportunity to see wolves, hear them howl, learn their stories, eat delicious food, walk through native prairie, camp overnight – and repeat in the morning. Twenty guests have an exclusive opportunity to engage in a deeper way with our organization and support our mission.
Tickets go on sale at 9:00 am on March 15! Click on the Schedule Your Sanctuary Visit or Event button on our website or call 360.264.4695 x220.