https://wolfhaven.org/wp-content/uploads/2015/04/NH_Logo_BlackOutline-300x300.png
0
0
Wolf Haven International
https://wolfhaven.org/wp-content/uploads/2015/04/NH_Logo_BlackOutline-300x300.png
Wolf Haven International
2015-11-06 14:00:41
2015-11-06 14:02:23
November World of Wolves - Wildlife Handling course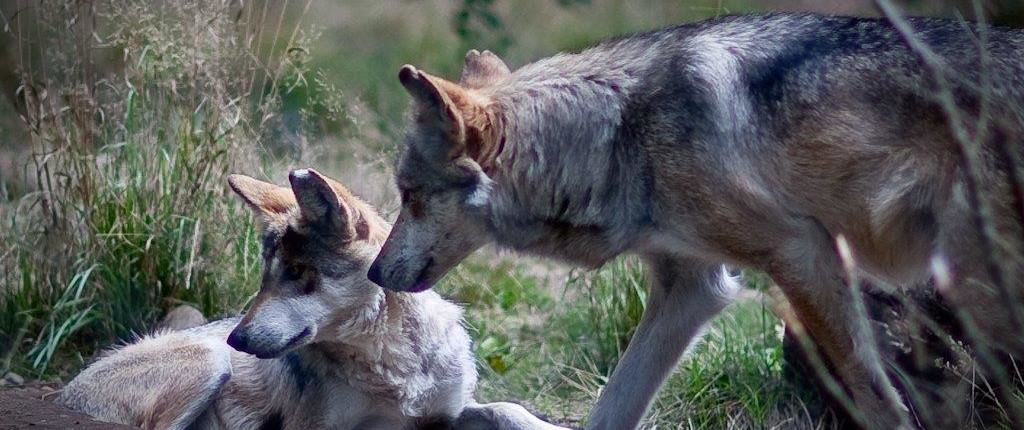 by Pamela Maciel, Mexican wolf/bilingual education specialist, Wolf Haven
There are currently 19 Mexican gray wolves living at Wolf Haven International. All are part of a binational Mexican wolf Species Survival Plan (SSP) Program. Of these animals, there is only one pair that sanctuary guests have the opportunity to admire during their guided visit: Mexican wolves M657 and F907 (otherwise known by in-house names Diablo and Gypsy).
All SSP programs were created to save highly endangered species from vanishing permanently by means of building a captive population through selective reproduction planning. Eventually, particular individuals could be potentially released into the wild. Both Diablo and Gypsy were born as part of the Mexican wolf captive breeding program, in 2000 at Detroit Zoological Institute and in 2004 at Río Grande Zoo, respectively. Diablo was transferred to Wolf Haven in 2004 and Gypsy joined him in 2005; ever since they have been sharing an enclosure on the public route.
They are such a cute pair to observe. Even though it isn't huge, from a physical perspective their age difference has become quite noticeable. Gypsy is an 11-year old that looks like a blooming yearling; her sparkling big eyes and flamboyant coat often make visitors sigh. On the other hand, handsome Diablo's 15-year old body is showing its natural decline; his movements are at times clumsy, he has lost almost all of his hearing and his sight isn't that great either. That does not deter him from teaming up with "Gyps" every morning and engaging in enthusiastic displays with all their enclosure neighbors. Beyond the physical differences, their shared self-confident and playful character makes Gypsy and Diablo wonderful life mates as they celebrate ten years of togetherness.
This article originally appeared in the Fall 2015 issue of Wolf Tracks magazine.
https://wolfhaven.org/wp-content/uploads/2015/04/NH_Logo_BlackOutline-300x300.png
0
0
Wolf Haven International
https://wolfhaven.org/wp-content/uploads/2015/04/NH_Logo_BlackOutline-300x300.png
Wolf Haven International
2015-11-02 12:34:08
2015-11-02 16:21:32
Meet Gypsy and Diablo, the sweet Mexi duo