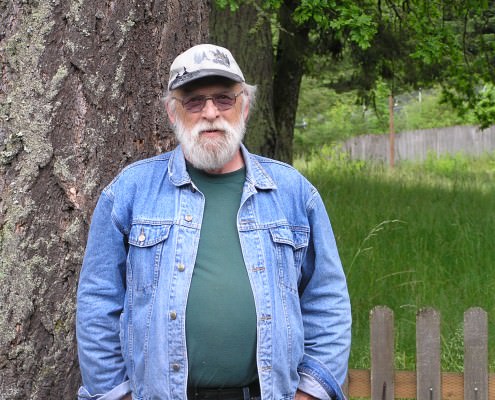 by Cindy Irwin, Director of Volunteer Services, Wolf Haven
"Some people come into our lives and quickly go. Some stay for a while, leave footprints on our hearts, and we are never, ever the same."
Flavia Weedn
Wolf Haven has lost a cherished volunteer. Wayne Clark Elliott served as a sanctuary guide steadfastly for ten years. With a booming voice, he shared his passion for wolves with thousands of guests from all over the world. Wayne was known by all as an expressive communicator with a very unique sense of humor.
One of the favorite anecdotes he would share with guests was the wolves' fondness for frozen bloodsicles. With a straight face, he would suggest that visitors pick up their own frozen blood treat in the gift shop at the end of their visit. You could see folks looking at each other, thinking "Is this guy serious?" All the puzzled looks were replaced with smiles when they heard the words" Just joking!", in that rich, commanding tone of voice unique to Wayne.
Wayne packed so much information into his wolf tours that he found it difficult to keep it to the prescribed 50 minutes. He simply loved sharing his passion, which successfully led to his goal of dispelling myth and legend about wolves, both captive and wild.
For many of us, there will always be an empty spot where Wayne once was. He was a great teacher and we all looked up to him. Just like the wolves who have passed during the last 34 years, Wayne will never be forgotten. His contribution to wolf conservation has become a permanent legacy at our sanctuary of peace. I would like to think of him now residing in a heavenly place where he may chat about what he loves, without limits. Rest in peace, Wayne.
https://wolfhaven.org/wp-content/uploads/2015/04/NH_Logo_BlackOutline-300x300.png
0
0
Wolf Haven International
https://wolfhaven.org/wp-content/uploads/2015/04/NH_Logo_BlackOutline-300x300.png
Wolf Haven International
2016-02-18 14:38:23
2016-02-18 14:38:23
Remembering Wayne