It may be spring (or even summer) weather in other parts of the country, but in western Washington, the rains continue unabated. Rather than fight it, Wolf Haven is reprinting an article which originally ran in the winter issue of our members-benefit magazine, Wolf Tracks. Just for fun, we've added some more pictures of mushrooms that can be found on our prairie.
By Anne Schuster, Prairie Specialist, Wolf Haven
The rainy season of the Pacific Northwest is also the season of mushrooms. Mushrooms are the reproductive parts of underground fungi, sort of like the flower version of a fungus. Most parts of a fungus are microscopic, living in and among plants and soil. Fungi make up 90% of the living material in forest soil. There are estimated to be up to 5 million species of fungus, but less than 10% of those species are known to science. Fungi, which are more closely related to animals than plants, are amazingly important for humans. The antibiotic penicillin, yeast for baking bread and brewing alcoholic beverages, and delicious truffles are all types of fungi. Fungi were the first living organisms to colonize land; they might stimulate clouds to rain with their spores; and are a huge reason earth is not covered in dead plants and toxic materials. Fungi are one of the few things that can decompose the cellulose from dead trees, but there are also species of fungi that can metabolize dangerous metals, bacteria, and even nuclear waste into safer products.
Next time you are out at Wolf Haven, keep an eye out for some of these mushrooms on our prairie, and also give thanks for their role in our world.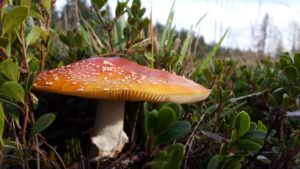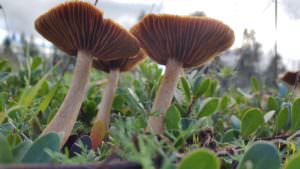 https://wolfhaven.org/wp-content/uploads/2015/04/NH_Logo_BlackOutline-300x300.png
0
0
Wolf Haven International
https://wolfhaven.org/wp-content/uploads/2015/04/NH_Logo_BlackOutline-300x300.png
Wolf Haven International
2017-03-23 16:25:20
2017-03-24 12:00:46
Fabulous Fungi