Wolf Haven International invites you to participate in one of our popular wolf photography visits. Photo visits are held during colder months, when the wolves are wearing their winter coats and are more active. The program begins at 8:00 am with a continental breakfast and brief presentation. The group will take photographs in the wolf sanctuary from 9 am – noon.
Photography visits make great gifts too!
Each group is limited to a very small number of people. The sanctuary is closed to the public, allowing an intimate experience for the participants.
Minimum age to sign up is 13; ages 13-17 must be accompanied by a participating adult.  8:00am – noon  $135 per person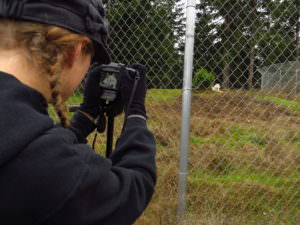 2017 Wolf Photo Visit Dates are all sold out. Please keep checking for 2018 dates.
January 19 (Thurs) – SOLD OUT
April 2 (Sun) – SOLD OUT
Oct 15 (Sun) – SOLD OUT
Nov 12 (Sun) – SOLD OUT
Because photos are taken through fencing, certain equipment suggestions do apply. Tripods and monopods are welcome only during photo visits. Please be prepared for cold and wet weather. The Photo Visits takes place in rain, snow, or shine!
Wolf Haven International Photography Use Policy.
Contact: contact@wolfhaven.org or phone 360.264.4695 x217 for more information.
*Cancellations made less than 7 business days in advance of the reservation date will not be refunded. Refunds will be sent within 30 days of cancellation where applicable.