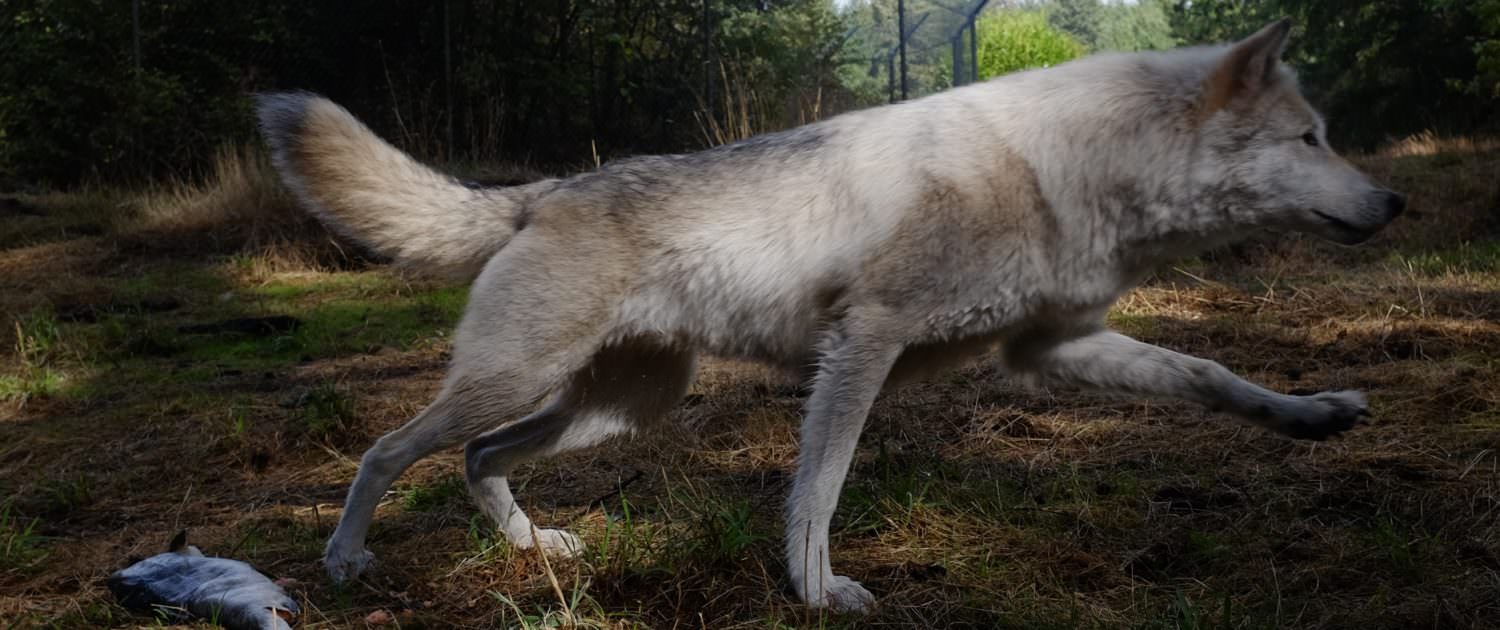 Lakota leaves his salmon to steal Sierra's fish.by Marisa Pushee, Animal Care Assistant, Wolf Haven International
Here at Wolf Haven International, we feed a wide range of raw meats to our resident animals. Whenever possible, we source meat that would otherwise go to waste. One of the special treats we offer the wolves is salmon. In the photo above, Lakota abandons his salmon in favor of stealing one from his companion, Sierra. Luckily, she promptly reclaimed his abandoned fish.
Pike Place Fish Co. donates the salmon. The world famous seafood vendor at Pike Place Market in Seattle, Washington is known for its "flying fish presentations" where their fishmongers throw the fish in the air when they make a sale.  While the demonstration draws in the crowds at the market, the rough handling is too much for expensive salmon.
This is where chum salmon enters as a stunt double for the wild king salmon. These stunt fish are thrown in the air several times before they are discarded. As these fish cannot be sold, Pike Place Fish Co. donates them to Wolf Haven International and other wildlife facilities. The salmon is deeply frozen for several days, and the extreme low temperatures of -5 degrees Fahrenheit kill any microorganisms that could pose a risk for the wolves, including Neorickettsia helminthoeca, the bacteria responsible for producing a fatal gastrointestinal infection in domestic dogs. We are only able to feed our animals the wild salmon because it has been deeply frozen in a commercial freezer.
The wolves love the novelty of the fish. The salmon also provide high quality protein, fat, and minerals to the wolves. We are so happy to provide this exciting and nutritious food to the wolves and thank Pike Place Fish Co. for their support.
https://wolfhaven.org/wp-content/uploads/2015/04/NH_Logo_BlackOutline-300x300.png
0
0
Wolf Haven International
https://wolfhaven.org/wp-content/uploads/2015/04/NH_Logo_BlackOutline-300x300.png
Wolf Haven International
2018-10-07 13:13:05
2019-01-02 09:22:28
Salmon Saturday