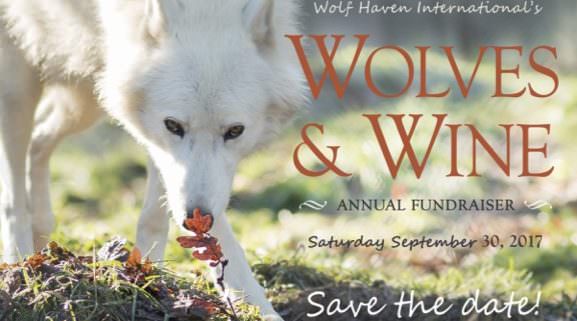 Wolf Haven's annual fall fundraiser and annual meeting, Wolves & Wine, will be held on Saturday, September 30 from 5-8 pm at  Saint Martin's University – Norman Worthington Conference Center in Lacey, WA. Tickets are $75 per person.
Join us for an evening of fun that offers both silent and live auctions, wine tastings, plentiful hors d'oeuvres and a chance to mingle with fellow wildlife supporters. Guests will hear about Wolf Haven's  highlights of the past year plus learn about future plans. It's a great opportunity to share your passion for wolves and support Wolf Haven's mission:  conserve and protect wolves and their habitat.
CLICK HERE to purchase your Wolves & Wine tickets!
Click below to see a gallery of some highlights from last year's Wolves & Wine. (photos by Melissa Poinsett)