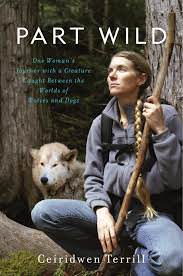 Part Wild is the real life story of Ceiridwen Terrill and her part wild wolf dog named Inyo.  Terrill tells a deeply honest truth about living with an animal that is neither wild nor tame.  Her need for safety and protection drove her to seek out a wolf dog but the result was that she spent her time saving and protecting Inyo. Terrill shares their, all too common, story with amazing detail that honors the life of this extraordinary wolfdog.
Ceiridwen Terrill
is an environmental journalist and science writer which is apparent throughout the book.  She incorporates scientific facts about wolves, dogs and wolf dogs.  She breaks apart myths that even she believed until her experiences with Inyo.  She not only tells us that wolves and dogs are different from a scientific perspective, but shows us how through her personal experiences. This makes 
Part Wild
 unique in that it is grounded in fact and experience thus making it an enjoyable and educational read.
This book is important for anyone with an interest in wolves, dogs and wolf dogs to read.  It is especially important for those who think that wolf dog ownership is a good idea.  While a few people claim to have had positive experiences raising wolf dogs this book makes it clear that those experiences are extremely rare.  This book proves that even the most well intentioned people that are willing to turn their lives upside down, including living on the verge of homelessness as Terrill did, may not be able to save the life of those caught in between worlds.     
Read more about Part Wild
.
https://wolfhaven.org/wp-content/uploads/2015/04/NH_Logo_BlackOutline-300x300.png
0
0
Wolf Haven International
https://wolfhaven.org/wp-content/uploads/2015/04/NH_Logo_BlackOutline-300x300.png
Wolf Haven International
2013-03-22 11:04:58
2017-08-23 15:08:00
A Book Review of "Part Wild" by Ceiridwen Terrill