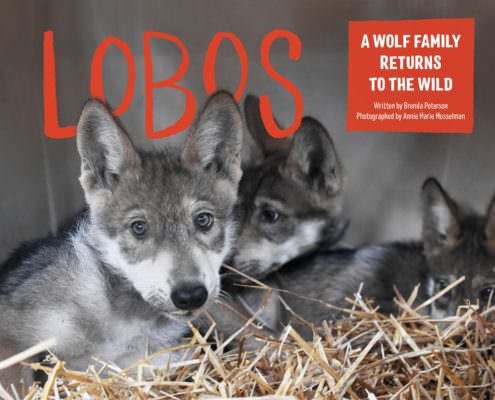 Lobos – A Wolf Family Returns to the Wild
This children's book about a family of Mexican gray wolves (lobos) is a follow-up to Wolf Haven: Sanctuary and the Future of Wolves in North America, (2016, Sasquatch Books). It is a hopeful conservation story about a family of endangered Mexican wolves who begin their lives at Wolf Haven, are transferred to Ted Turner's Ladder Ranch in New Mexico, and ultimately released into the wild in Mexico.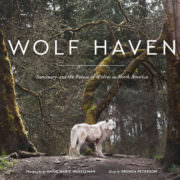 The nonfiction story by Brenda Peterson is illustrated with color photography by Annie Marie Musselman, both of whom were the principals behind the earlier Wolf Haven book. With easy to read text and heart-warming pictures, young people will enjoy learning about wolves and the challenge of reintroducing an endangered species to the wild. Lobos is scheduled for release in mid-August 2018, and prerelease orders can be placed with Amazon, Sasquatch Books, Penguin Random House and other sellers. It will also be available at Wolf Haven's physical gift shop and website following publication.
You can read reviews of both books here:
Lobos: A Wolf Family Returns to the Wild
Wolf Haven: Sanctuary and the Future of Wolves in North America
by Kim Young, Director of Communications
(This revised article was originally published in Summer 2018 issue of Wolf Tracks,
a Wolf Haven International members-only magazine)
https://wolfhaven.org/wp-content/uploads/2015/04/NH_Logo_BlackOutline-300x300.png
0
0
Wolf Haven International
https://wolfhaven.org/wp-content/uploads/2015/04/NH_Logo_BlackOutline-300x300.png
Wolf Haven International
2018-08-08 12:43:32
2018-08-08 13:18:19
Lobos – A Wolf Family Returns To The Wild