by Kim Young, Director of Communications, Wolf Haven International
photographs taken by Melissa Poinsett for Wolf Haven
Wolf Haven International launched "Wolves & Wine" in 2011 with the intention of making it our premiere fundraising event combined with our annual meeting. We wanted to create an evening where supporters could learn more about Wolf Haven's recent accomplishments and future plans, and at the same time raise much-needed funds for our nonprofit sanctuary. We hoped it would offer wolf and wildlife advocates and supporters an opportunity to come together in a relaxed, comfortable surrounding. But above all, we wanted it to be FUN!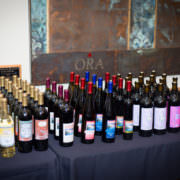 If you want to guarantee a successful adult event, it helps enormously to have excellent food and drink available in a convivial atmosphere. We had that covered from the beginning by offering wine tastings from a variety of vintners and delicious heavy hors d'oeuvres served by Bon Appetit catering at The Norman Worthington Conference Center of Saint Martin's University. The stellar planning committee also believed that a silent and a live auction would be the ideal avenue for us to raise money in support of our mission: conserve and protect wolves and their habitat.
We could sell all manner of wolf-related items: jewelry, custom-made cabinets, paintings, books, etc. as well as more generalized things like a package get-away week-end or sports tickets. The key to the success of the auction, however, was going to hang not only the generosity of our guests, but also on having just the right auctioneer at the helm.
The Perfect Fit – Jeff Kingsbury
We found the ideal company and candidate in Stokes Auction Group and Jeff Kingsbury. Jeff is an actor and director who specializes in musical theatre. His work has taken him all over the country and he has appeared in over 150 plays and musicals. Given his background in the theatre, it isn't uncommon for Jeff to break into song during an evening's event.  He has a quick and warm wit, and a phenomenal memory for names.
Jeff is  a master at "driving" an incredibly fun, fast-paced evening. He encourages bidding auction items, but without pressure (well, not too much). After having Jeff Kingsbury as our Wolves & Wine auctioneer for the past several years, we can guarantee that by the end of the night, your mouth will hurt and your stomach will ache from laughing so hard. He feels a compassion and commitment to Wolf Haven's mission and always strives to ensure that Wolves & Wine is a success. We truly hope you will join us on September 30, 2017 for the seventh annual Wolves & Wine – and Wolf Haven's 35th anniversary! PURCHASE TICKETS HERE.
More About Jeff
As an auctioneer, Jeff has helped raise funds for the American Heart Association, Colorado Epilepsy Foundation, The Pacific Symphony (Orange County), The Amarillo Symphony, and many deserving organizations in addition to Wolf Haven.
Stokes Auction Group
The company, located in Edgewood, Washington specializes in supporting non-profit agencies and charitable causes in reaching their fundraising goals.  Their team provides seminars, pre-event consulting, on-site support, professional auctioneers, bid spotters and materials to support your event.  They serve groups of all sizes in their efforts to achieve financial success.

Our Media Sponsor for this year's event is South Sound Magazine. Look for our Wolves & Wine ad in their September issue!
https://wolfhaven.org/wp-content/uploads/2015/04/NH_Logo_BlackOutline-300x300.png
0
0
Wolf Haven International
https://wolfhaven.org/wp-content/uploads/2015/04/NH_Logo_BlackOutline-300x300.png
Wolf Haven International
2017-08-02 11:46:50
2017-08-07 14:45:07
Who's that Wolves & Wine Auctioneer?